Shaman !
–
–
The Painting worked his way into my mind. I had no other choice than to let it come, and to let it talk to me.
I went on working, trying to stay quiet, not too inquisitive. One could have been hearing the brush rubbing on the fresco lime plaster.

 –
 –
–
–
This Fresco needs no word and no concept.
To me, it is a window!
Towards?
–
Shaman – Details
…/…
Later on, as the fresco was achieved, I discovered a  music piece from "Hadouk Trio" : It seemed to me that the music was coming out of the painting, or even, that it was entering into it !
The piece is called "Shamanimal" and the live concert intro sounded prophetic to me :
"To the Shamanimal, Time looks like a Painting"!
–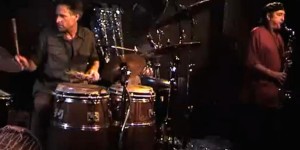 (9 minutes. Make yourself comfortable and click on the image. It is worth the listening)
–
Shamanimal - The Album (Link on Amazon)