Caminante no hay Camino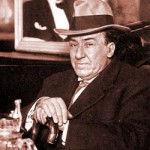 The Spanish Poet Antonio Machado was born in 1875 in Sevilla. He died in exile, not long after his arrival in Collioure, Southern France. All along this reversed Way of St James, the armies of the General Franco were chasing the Spanish Republicans away from their homeland.
Very often, Poets are prophets too, and among many others, the following verses demonstrate that. Their little melody brings tears to my eyes every time I listen to it. So I tried to depict them in my own way, and with my very own tool which is Fresco Painting.
Here they are, engraved in the grey limestone: "Caminante, son tus huellas el camino, y nada más; caminante, no hay camino, se hace camino al andar. Al andar se hace camino, y al volver la vista atrás se ve la senda que nunca se ha de volver a pisar.Caminante no hay camino, sino estelas en la mar… Todo pasa y todo queda, pero lo nuestro es pasar, pasar haciendo caminos, caminos sobre la mar." Antonio MACHADO (in: Proverbios y Cantares)
Concerning the English translation, this is my own try. Hope it sounds good enough! Amazingly, it reminds me of some poems by Richard Brautigan!
Traveller, those are your footprints
they draw your way, nothing else;
Traveller, there is no road
The road is your travelling.
Your travelling draws your road,
and when you look back
You just can see a path that never more
You'll step upon.
Traveller, there is no road,
Only ship wakes, all through the sea.
All goes, and all remains,
but our task is to go,
to go and to sketch roads
roads through the sea.
Antonio MACHADO – 1909
–
–