Little Sister / Musician of the Silence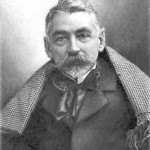 "Little Sister" is the second version of "Meditative", a fresco from 2009. After "Meditative" flew to Australia and took her place in David and Susie's house, I started to miss her! When we met again not long ago, they cleverly suggested that she could maybe get a sister. I considered their idea very seriously and here she is!
I looked at the new fresco then, and a poem from the French Poet Stephane Mallarmé came to my mind. The poem is called Saint and it sounds in French like a sort of dance of words.
The musical rythm of the poem is not easy at all to render. I did my best, taking inspiration from an existing translation by the American poet Hubert Creekmore. I love those links and connections: painting and dance, music and poetry!
 –
Saint
At the window, and concealing
The ancient sandalwood with the flaking off gild
Of her Viola that gleamed
Long ago with Flute, or with Mandore,
Stands the pale Saint, she displays
The ancient book that unfolds
At the Magnificat, outpouring
Long ago, according to vespers, or to complines:
At this monstrance glazing
That a harp gently brushes, of the Angel
Made up with his evening flight
For the delicate tip
Of the finger which, lacking the ancient book
Or the old sandalwood, she poises
On the instrumental plumage,
Musician of the silence.
Mallarmé – 1865
–
–